When a child suffers an injury while playing sports, the priority needs to be the health of the child. Then, we focus on getting your child back on the playing field as soon as possible.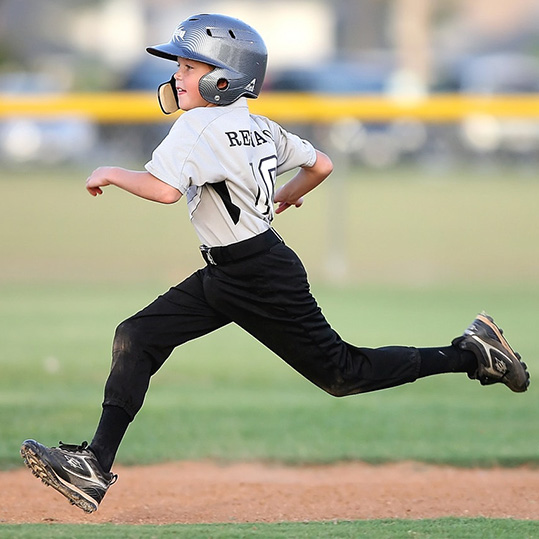 What kind of sports injuries do we treat?
The staff is well-equipped to treat a wide variety of sports injuries, including the most common injuries at elementary and high school levels:
ACL tears
Shin splints
Knee injuries
Ankle sprains
Hamstring strains
Tennis elbow
Dehydration
Head injuries
In addition to accurately diagnosing and treating sports-related injuries, the Board-Certified Providers at Grossmont Pediatrics offer guidance for preventing injuries, including muscle-strengthening exercises and proper hydration techniques.
How is dehydration diagnosed?
Dehydration is common for children who participate in sports. The most common signs of dehydration include:
Dry mouth
Fatigue
Headache
Dizziness
Increased thirst
Low urine output
Your Board-Certified doctor can determine if your child is suffering from dehydration and how severe the condition is during a physical exam. If dehydration is mild to moderate, you may need to give your child extra fluids.
If dehydration is severe, your child may need intravenous fluids and an overnight stay at the hospital.
Untreated dehydration can result in long-term damage to your child's kidneys and other organs. It can also result in seizures and life-threatening shock that occurs when blood pressure and oxygen levels drop suddenly.
To learn more about available treatment options for sports-related injuries, schedule a consultation with the Board-Certified Providers at Grossmont Pediatrics online or by calling the office directly.
What treatment options are available for sprains, strains, and overuse injuries?
The Board-Certified Providers at Grossmont Pediatrics offer several treatment options for sports-related injuries affecting the muscles, tendons, and ligaments. They may request imaging tests to confirm a diagnosis and rule out underlying medical conditions.
Initially, your doctor may recommend rest and ice or heat therapy to reduce swelling and pain. They may also suggest using over-the-counter pain medicines to keep your child comfortable.
If the injury is severe enough to require surgery, the Board-Certified Providers at Grossmont Pediatrics may refer your child for additional treatment with an orthopedic specialist.
What if my child suffers a head injury?
Take your child to the nearest emergency room or call 911 for immediate medical assistance if your child loses consciousness or has excessive bleeding from the head.
If your concern is a concussion, you can contact Grossmont Pediatrics for a same-day appointment for a comprehensive concussion evaluation. Your Board-Certified doctor can perform several tests to determine if your child has a concussion and can recommend further treatment to protect your child's health.
We're here to assist you and your family. Call or make an online appointment today.